I've never been a car guy. I don't really have any particular interest in cars, to be honest with you. I like that they can get me places, I like that the concept of a mobile, air-conditioned room where I can play music and be carried at speeds up to 150 mph exists, but no, I'm not a car guy. Most car talk confuses me. While I know how to check my oil and tire pressure, that's about as far as my knowledge goes. I don't really understand the difference between a Hemi and regular engine. When anyone asks me how many cylinders my car has I'm never really sure what to say. "The normal amount, I suppose," is my usual answer. "I think it probably has enough cylinders. Not too many, but I think you can get bogged down by too many cylinders. I like to keep things basic, you know? No need to be flashy with all those cylinders…God, could you imagine? Starving children in Africa who can't get a good meal, let alone a few cylinders they can call their own, and here we are with more cylinders than we know what to do with." So how is it that one summer day in 2007 I not only found myself at the local car show, but "volunteering" at it?
My brother was filming it. I say "volunteering" because he had asked me to help him, and I did say yes, but you never really agree to work for him without a fair amount of pressuring on his part. He usually asks half an hour before the event, when someone else has dropped out of the project, and he doesn't know who else to turn to. So far, I've never been able to tell him no. At this point in our working relationship I probably should have. The last project of his I had worked on nearly ended with my being mauled by a tiger. Still, for reasons beyond my understanding, I said yes.
My job was to man the DVD sales table. It was definitely a less life-endangering job, but also a million times more boring. My task was to take money, fill out a receipt, tell them they would get their copy in one month when the editing process ended, and then repeat those steps a hundred times until I could call it a day. Sometimes I would have to explain why it was they would need to buy a record of an event they had just spent the last few hours witnessing for themselves. For the life of me, I wasn't really sure. One man in particular asked, "Well, am I going to be in the movie?" I told him it was definitely within the realm of possibility. "I mean, I would buy it if I knew I was going to be in it," he said.
"Well," I said, "My brother is filming it right now. If you see someone walking around with a video camera that looks almost exactly like me, just a few inches shorter, you should make sure to walk in front of him as much as possible. The more you do, the better your chances. And don't worry about bothering him. He loves when people take an interest."
He mulled it over for a minute, then paid. "I think he's over by John Schneider and the General Lee right now," I said. The man thanked me and walked off to become what my brother would later tell me was the most annoying person he had ever met. "The guy kept getting in the shot. Everywhere I went, he was there. Why the hell would anyone do that? At this point I don't think it's humanly possible to edit him out. I got more shots of him than I did with Schneider."
I told him I didn't know. Who can tell what goes on in the minds of strangers?
When my father showed up to keep me company, all we could talk about was John Schneider and the General Lee. He had watched the Dukes of Hazzard when it originally aired, and I had caught most of the episodes on reruns. Even now, I couldn't tell you why I liked the show so much as a kid. Again, cars never really interested me. Hot Wheels were boring. Nevertheless, I was glued to the television whenever the Duke boys went about their way (which was, of course, a little bit more than the law would allow).
Prompted by hours of mind-numbing boredom, a thought popped into my head. "Do you think they ever had sex with each other? John Schneider and Catherine Bach, I mean?"
"They were cousins, son. I really don't think they had sex with each other." He leaned in as he said this, making sure no one could overhear. He's now a preacher, and even though he wasn't then, he was well on his way – whether he knew it or not. So there was always that matter of appearances. He liked talking about that sort of thing. He just didn't want everyone else to know he did.
"Right," I said. "On the show they were cousins, but in real life they were two actors at the peak of their attractiveness, spending long hours wearing tight jeans or, in her case, extremely short shorts. It had to have come up at some point…"
In case you don't remember, or never watched the show:
John Schneider (Bo Duke) looked like this:
Catherine Bach (Daisy Duke) looked like this: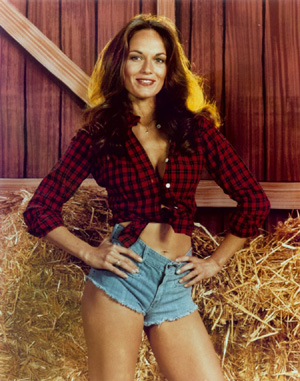 "Hell, I don't know, Coy. I would still think that if you spent that much time together playing the parts of family members, it would feel a little incestuous. Even if it wasn't real, you can only call someone your cousin so many times before a part of you starts to think it's true."
"I guess so," I said, but I didn't believe it.
Ten minutes passed and an Elvis impersonator took the stage. He wasn't bad, but he kept talking about his wife and how much he loved her. "I owe everything to that beautiful woman down there. Linda, you're the best wife a man could ever hope to have." It took me out of the performance. I would assume that, as a rule of thumb, if you're going to be an Elvis impersonator, you probably shouldn't talk about your real life. All I could think was, shit, Priscilla is going to be so mad when she finds out about this Linda woman…
"You're still thinking about it, aren't you?" my father said after a while. He is well aware of my obsessive nature. When a thought takes hold, it's nearly impossible for me to move onto anything else until it's been resolved. That's one of the reasons I'm extremely thankful for the internet. Google Search is the greatest blessing to people like me. Still, not everything is online. Whether John Schneider and Catherine Bach had sex, for example. And at that moment, it's what I desperately wanted to know. What had started off as an offhand question was beginning to bloom into full obsession.
"A little, I guess. But it's not like there's any way we could find out. What are we going to do, ask him?"
Fake Elvis started singing "In the Ghetto," which has always been a favorite of my father's. I don't know why, it just is. He became engrossed in the performance and didn't speak until it was finished and Fake Elvis gave another shout-out to his real wife. "He's pretty good," my father said. "I just wish he wouldn't talk about his wife so much. It takes you out of it a bit." Sometimes the similarities between us are a little frightening.
Once the Elvis show was finished, my father stood up from the table. "I'm going to walk around for a bit," he said, "And stretch my legs. These chairs are hell on my back. Do you want anything? Something to drink, maybe some nachos?" I told him I didn't. "I'll come back in a little while. Try not to fall asleep."
I made no promises.
During the hour he was away, I wrote receipts for a dozen more orders, and surveyed the crowd. People watching has always been a bad habit of mine. Left with nothing to do for more than five minutes, my mind tends to latch onto a stranger and begins creating a history for them. I imagine their hopes and dreams, their failures, the people they had loved, the things they regretted most. It helped to temper my growing disappointment with people. In the end, I always grew to love them, knowing what (in my mind) they had suffered. Even then, walking around a car show and looking over the engines, I knew they carried with them some dream deferred or regret over someone they'd always wanted to be with, but were never able to approach. I blame reading for this – I had spent so many hours lost in books, being privy to all the innermost secrets of characters, that I assumed everyone's soul was free game. At the end of the day, I know it's why I wanted to know whether or not, thirty years ago, two actors had had sex with each other. I've always needed to fill in the gaps.
When my father returned, I was in the midst of creating a story about the first love of a woman idly looking at cars alone, eating slowly from a bag of popcorn. There was something about the way she ate each kernel, with such careful deliberation, touching the food to her lips before she opened her mouth and placed it carefully inside, that made me think that there was a story there that took place on a lake one summer night twenty years before, when she became drunk on cheap wine and moonlight, and realized that that moment, with that man, was as good as it would ever be. And that night she tried to get one over on time. She tried to slow the seconds, make them stretch into infinity. She knew the harsh light of day would change everything. But at that moment, sitting next to a man with an easy smile who had suggested going into the water together wearing nothing, that moment was one that needed to last forever. And it did, honestly. In her memory, she could always return, would always be beautiful, and he would always be everything she wanted him to be.
My father roused me from this daydream, patting me on the shoulder. "I was miles away," I said. "How long have you been standing there?"
"A while," he said, "But not too long."
I looked at him then, and saw that something was different about him. Something had crept into his eyes, and as best as I could figure, it was a show of pride. Not pride for his son – that was a look I had been able to discern for some time – but of himself. "I've got something for you," he said. And he gingerly placed a page of thick paper, face down, in front of me. "Hopefully, it will make your day a little better."
I turned the paper over to see this:
My father, the soon to be preacher, had stood in line for the better part of an hour, and when he had his moment with John Schneider, had said, "Sir, I know you're a Christian. I'm one too, so if you don't want to answer this question, I'll completely understand, but my son has this weird habit of wanting to know extremely personal things about strangers. So…did you ever have sex with Catherine Bach?"
He said that John Schneider had laughed, then. Of all the interactions with fans that day, the one with my father had been one of his favorites. He took the picture of himself, picked up his Sharpie, and began writing a response. "I think your son will like this," he said. "Hopefully, he'll take my word for it."
As the years have passed, this picture has remained my favorite possession, and no matter how often my father wears grey sweatpants, black socks, and tennis shoes, I can't help but think he's a hell of a lot cooler than most dads. All that remains at this point is to track down Tom Wopat and ask him the same question.
I am a completist, after all.